Edward Large and the Music Dynamics Lab are excited to host the annual New England Sequencing and Timing (NEST) 2020 meeting at UCONN.
NEST 2020 has been cancelled due to COVID-19.
We look forward to hosting an extra special NEST for 2021!
Thank you to everyone who submitted talks – the curated abstract book planned for NEST 2020 can be viewed here.
Location details:
University of Connecticut, Storrs
McHugh Hall 305 (ADDRESS for GPS: 2075 Hillside Rd, Storrs, CT 06269.  Interactive Map available here)
Please park in Y/B-Lot (free) or the South Parking Garage (prices available here)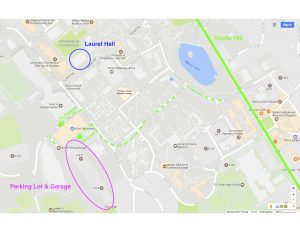 (Click to enlarge) – circled in blue is the conference building (formally Laurel Hall), in pink is the closest parking location.
NEST Lodging (distance from Storrs):
Nathan Hale Inn (0.5 miles) ~ $180/night
Spring Hill Inn (2.2 miles) ~ $179/night
The Inn on Storrs (5.5 miles) ~ $100/night
Roadway Inn: Willington (7.5 miles) ~$80/night
Transportation:
The nearest airport is Bradley International (BDL) in Hartford, CT (approximately 45 mins).
Alternatively, Boston Logan is approximately 1.5 hrs
If you do not wish to rent a car, you can consider alternatives here.
Abstracts from NEST 2017 are available here.
Abstracts from NEST 2018 are available here.
Abstracts from NEST 2019 are available here.